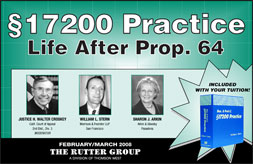 The Rutter Group's annual conference on the UCL, featuring William L. Stern of Morrison & Forester, is coming up on Tuesday, February 26, in San Francisco, and Wednesday, February 27, in Los Angeles. Both programs run from 6:00 to 9:15 p.m. (registration at 5:30).
As most everyone knows, Will is the author of the leading practice guide on the UCL. Will's program is always very good, and I'm sure this year will be no exception, especially considering his co-speakers. Joining Will on the panel this year are Sharon J. Arkin of Arkin & Glovsky and Justice H. Walter Croskey of the Court of Appeal for the Second Appellate District, Division Three.
Many thanks to the blog reader who told me about this on the phone today.