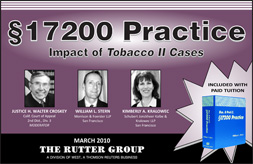 The Rutter Group's annual seminar on 17200 practice will take place on Monday, March 1, 2010 at the Hotel Nikko in San Francisco and on Wednesday, March 3, 2010 at the Los Angeles Mariott Downtown. 
This year, I am pleased to be a co-speaker with Will Stern, author of the Rutter Group's Bus. & Prof. Code §17200 Practice.  Justice H. Walter Croskey of the Second Appellate District, Division Three, will be our moderator. 
The program will run from 6:00 p.m. to 9:15 p.m. (registration starts at 5:30), and the program fee of $310 includes a copy of Will's book (or subtract $150 if you already have the book).  You can also register to attend a video replay of the program in Costa Mesa on March 16, San Diego on March 23, and Sherman Oaks on March 25.  I look forward to seeing some of you there.